Beyond the Hotspot software that comprises the bulk of their business, Connectify Inc. makes another utility for laptop enthusiasts: Dispatch.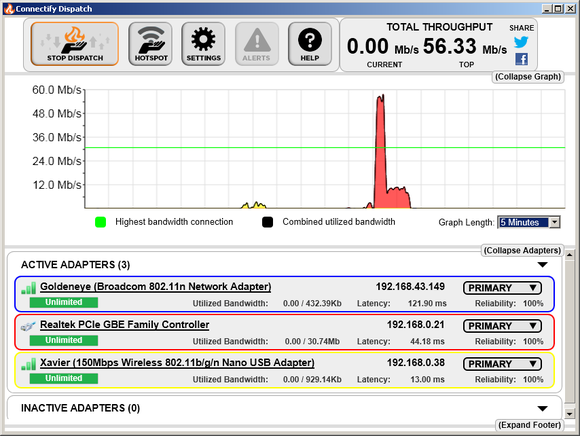 Connectify Dispatch works by simultaneously leveraging the multiple network adapters and high-speed USB ports available on modern systems to boost bandwidth and reliability. Each Internet connection you add to Dispatch's list of active adapters increases potential download speeds and provides automatic failover in the case one of the connections fails. For the most part, this works swimmingly. However, there's a bit of the devil in the details.
Setup is straightforward and largely automatic. Users are presented with a window that lists available adapters and indicates whether or not they are bound to Dispatch. A graph charts the combined bandwidth on tap, and settings allow for customized application routing, bandwidth caps for metered Internet feeds, and various routing strategies that maximize efficiency in marginal networking situations.
The first prerequisite is an obvious one: You need access to multiple, separate Internet connections for Dispatch to work as advertised. The hidden detail here is that combined bandwidth isn't directly additive. Two 20 Mbs connections won't yield a 40 Mbs single-socket download, for example, but they will allow for loads to be balanced and intelligently routed to an available adapter with the most suitable bandwidth. BitTorrents and other software that utilize multiple sockets will allow downloads to reach full combined speeds, however.
To read this article in full or to leave a comment, please click here